Looking for the best beaches in Goa to explore? Beaches in Goa have something for everyone, right from the thrill of water sports to the calm of evening walks. Goa, India's coastal jewel, is not just about its beaches, but they sure form the heart of tourism here.
For exploring the beaches, you've got multiple options. Local buses offer an economical way to get around. Taxi cabs, though a bit on the pricey side, provide comfort and convenience. But if you crave a personalized experience, consider a self-drive rental car in Goa. This option gives you the freedom to beach hop as you please.
Be it the bustling Baga Beach or the quieter Candolim Beach, Goa's beaches hold a mystic charm that keeps you coming back for more. Here are the best beaches in Goa!
Also Read: 8 Best Things to Do in Goa in Winter for a Fun Vacation
Top Beaches In Goa You Must Visit
Here are the top beaches in Goa, which are not just holiday spots but dream destinations offering unique experiences.
Palolem Beach
If you're searching for a slice of serenity in Goa, Palolem Beach is where your quest ends. A utopia of golden sands framed by coconut palms, it's like nature crafted this space as a respite for weary souls. Here, the waves hum lullabies, and the skies paint ever-changing sceneries. Simply put, Palolem Beach is an artist's dream and a solitude seeker's paradise. Feel the essence of Goa crystallized at Palolem. It's less a destination and more an emotion you carry back with you.
Local Scoop: Check out the full-moon beach parties.
Food Diary: Explore artistic cafes; they are a combo of artistic flair and culinary delights, especially their seafood platter.
Agonda Beach
Agonda Beach, nestled in South Goa, is a delightful blend of untouched natural beauty and gentle allure. Moving beyond just scenic splendour, it welcomes visitors into a world where wildlife and adventure coexist harmoniously. Spot playful dolphins making a splash and witness the delicate Olive Ridley turtles finding their way on the sand. For the adventurous heart, the beach unfolds numerous water sports activities.
Early Bird Advantage: Hit the beach early to enjoy the serene ambience at its best and get a chance to witness the breathtaking sunrise.
Local Delight: Don't miss out on tasting the local seafood delicacies in the beach shacks, capturing the authentic flavours of Goa.
Baga Beach
Baga Beach in North Goa—it's your go-to if you're aiming for a buzzing time with your mates. Think about it: thrilling water sports by day and foot-tapping parties as the sun dips. Trust me, there won't be a dull moment when you're here with your friends.
Now, let's chat about how to get there. Buses and taxis are decent options, but for full control over your day, consider a car for self-drive in Goa.
Insider Info: Don't miss the Wednesday flea market at Baga. From handmade crafts to spicy Goan sausages, it's a feast for the senses.
Bonus Tip: If you're into marine life, Baga offers dolphin cruises. A must-try experience!
Cavelossim Beach
Imagine a setting that's both lively and offers tranquillity. The atmosphere here is vibrant—kids building sandcastles, couples strolling, and groups engaged in beach volleyball. But the beauty lies in its versatility. Head a bit further along the shoreline, and you'll find pockets of tranquillity for a quiet sit-down.
Insider Info: Cavelossim is a perfect spot for water sports and boat trips. Yet, it also offers silent stretches where you can enjoy a book or even meditate.
Bonus: Right around dusk, local musicians often show up for impromptu gigs. Bring a blanket and enjoy the music as the sun sets.
Benaulim Beach
The Benaulim Beach is situated in South Goa and is a perfect spot for family get-togethers. With its clean shores and peaceful atmosphere, it's the place where families can freely enjoy without a care in the world. Little ones can build sandcastles while the grown-ups lounge or catch up on reading. It's as wholesome as a beach outing gets.
Inside Scoop: Local stalls offer a wide range of Goan delicacies, ideal for a family picnic.
Rare Sight: Keep an eye out for turtle nesting spots, an uncommon but incredible sight if the timing is right.
Varca Beach
Varca Beach is a place of solace set aside for those seeking a break from the hustle and bustle. The soft sand cradles your feet as you walk, and the calm waves offer a soothing soundtrack for your thoughts. It's you and the sea, with no distractions in between.
Insider's Note: Perfect for solitary long walks; you won't be disturbed.
Authentic Touch: Traditional fishing boats can often be seen in the background, adding a touch of local flavour to your solitude.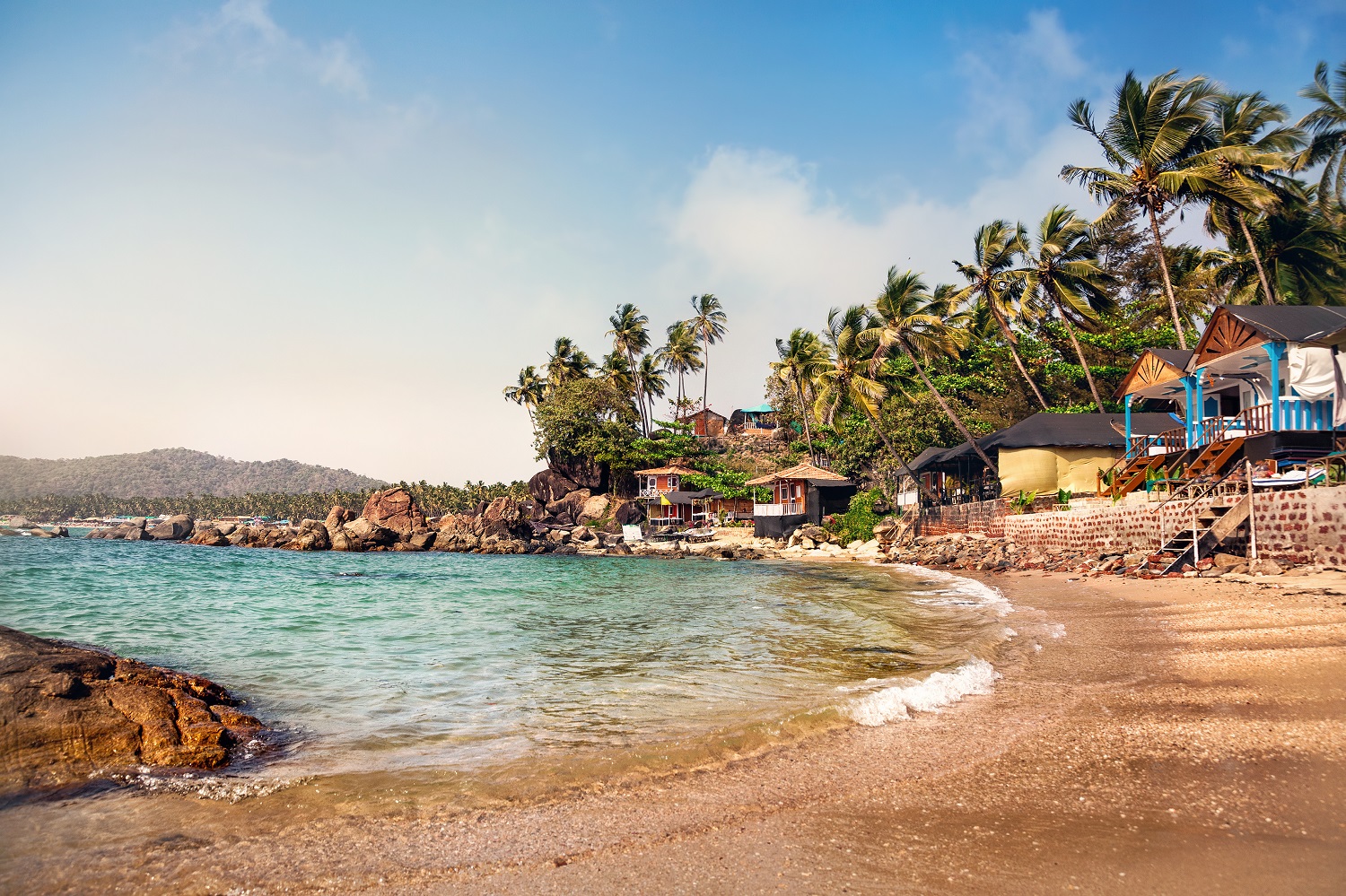 Candolim Beach
Candolim Beach is a visual spectacle, offering a captivating play of waves that seems to welcome every visitor individually. This is no ordinary stretch of sand; it's where the sea truly comes alive. From early morning swims to vibrant sunsets, this place keeps you entranced.
Insider Info: Candolim offers a range of water sports, including jet skis and parasailing.
Not to Miss: The local shacks serve up delicious Goan seafood.
Morjim Beach
Morjim Beach, cradled in North Goa, is a splendid escape exuding a different charm. Away from the cacophony of the more commercial beaches, Morjim offers a soothing panorama of azure waters and soft, sandy shores. It's a perfect backdrop for relaxed sunbathing or engaging beach sports. The lush, green surroundings further add to the peaceful ambience, letting you reconnect with nature effortlessly. With an array of beach clubs and shacks, you can indulge in the pulsating beats and savour exotic Goan flavours.
Off-Peak Perks: Visit during weekdays to escape the crowds and have the serene beach almost to yourself.
Nightlife Exploration: Engage in Morjim's lively night scenes, but remember to respect the local customs and environment.
Also Read: 10 Amazing Things To Do In Goa With Your Kids
Calangute Beach
Calangute Beach is one of the most popular beaches. Every day, it's abuzz with people who come to immerse themselves in the uplifting mix of sea, sand, and sun. The waves offer a hearty welcome, while the weather usually plays nice, laying the groundwork for a memorable day out. If you're keen to feel the pulse of Goa, there's no skipping Calangute. Getting here? Well, you have choices. Public buses run frequent services, and taxis are always around. However, for an unshackled experience, car rentals in Goa provide the flexibility to explore Calangute and its nearby attractions at your own pace.
Insider Info: Calangute is particularly known for its water sports; don't miss the opportunity for a jet-ski or parasailing adventure.
Bonus: Local vendors sell trinkets and souvenirs, offering a piece of Calangute to take home with you.
Conclusion
Look, when you're in Goa, there's so much to see. Trust me, you don't want to be waiting for cabs or figuring out bus routes. That's where GOICAR steps in. We're not just any car rental service; we're known as the best in the business here.
The deal is simple: we provide self-drive cars in Goa whenever you need them. From zippy hatchbacks to plush sedans, take your pick. We even have Mopa Airport car rental services to kickstart your Goan adventure the moment you land. In a nutshell, if you're thinking car rental in Goa, you're thinking GOICAR.
Disclaimer- The information provided in this content is just for educational purposes and is written by a professional writer. Consult us to learn more about the best beaches in Goa.
Best Beaches in Goa to Explore on Your Vacation